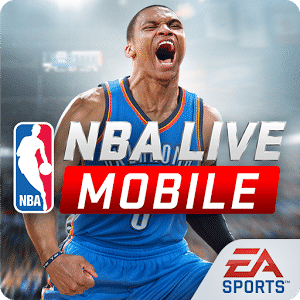 NBA Live Mobile è un nuovo gioco della Electronic Arts dedicato al basket americano. Il gioco è da poco disponibile sul Play Store di Google e non è ancora disponibile la traduzione in italiano. Per questo vi proponiamo la descrzione in lingua inglese.
Descrizione
Connect to the NBA all-year-round with fast-paced, daily live events based on real NBA teams, players, and in-season action. Enjoy full 5-on-5 action, authentic 3D gameplay, and battle it out on the hardwood all the way to the NBA Finals!
STAY FRESH IN DAILY LIVE EVENTS
NBA LIVE Mobile connects you to the NBA every day, all year long. Instantly tap into brand new challenges and incredible rewards every day with live events, evolving matchups, Head-to-Head and Seasons modes, and more – all based on the real NBA!
ASSEMBLE YOUR TEAM*
Select your favorite NBA franchise and become GM. Acquire real NBA players from the past and present by opening packs, or by working the auction house. Collect blockbuster legends and current stars like Russell Westbrook. Upgrade your roster your own way, then take your team out on the court to compete against friends.
FIND EDGES TO DOMINATE*
Play through fast-paced NBA seasons to build your powerhouse franchise. Unlock special abilities for your team members, dominate friends, and take your franchise to the next level.
NBA LIVE Mobile brings real NBA events and next-generation hardwood action straight to your fingertips. Are you ready to rise to the top?
This app: requires a persistent Internet connection (network fees may apply); requires acceptance of EA's Privacy & Cookie Policy, TOS and EULA; includes in-game advertising; collects data through third party analytics technology (see Privacy & Cookie Policy for details); contains direct links to the Internet and social networking sites intended for an audience over 13.
*Facebook login required. Must be 13 years or older.
***DOWNLOAD*** da Google Play
***DOWNLOAD*** APK
Se ti piace il nostro sito e vuoi contribuire a darci una mano, non esitare a offrirci un caffè o almeno visitaci senza Adblock 🙂