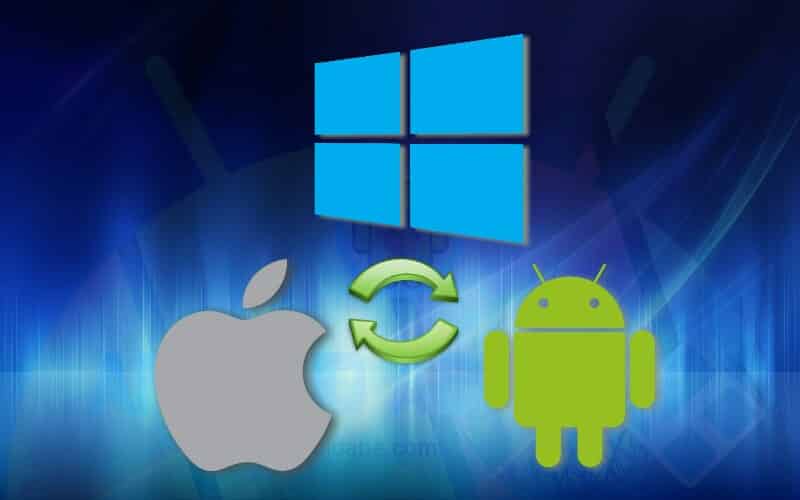 Younity è una nuova sensazionale applicazione che ti permette di sincronizzare il tuo Android o iPhone/iPad con qualunque PC con a bordo Windows. Una volta installato sia su dispositivo mobile che su PC, Younity comincerà automaticamente a sincronizzare i dati presenti sul PC con il dispositivo mobile connesso.
Ma vediamo più in dettaglio come funziona Younity.
Innanzitutto è bene sottolineare che affinchè la sincronizzazione abbia inizio è necessario che Android o iOS e PC siano connessi alla stessa rete e una volta disconnessi o se si è lontani dal segnale wifi, i dati del PC non saranno più accessibili su mobile.
Bene, dopo questo breve prologo, vediamo cosa fare per trasferire i file del nostro PC sullo smartphone/tablet android:
Installate Younity su Android scaricandolo da questa pagina o su iOS cliccando QUI
Scaricate ed installate Younity sul vostro PC con Windows – DONWLOAD
Avviate Younity sul vostro dispositivo mobile e fate il Login (potete farlo con Google, Facebook oppure creandovi un account sul sito di Younity)
Ora installate il file exe di Younity sul vostro PC ed avviatelo facendo l'accesso così come avete fatto su mobile
A questo punto in automatico Younity eseguirà una scansione al termine della quale potrete visualizzare su mobile tutto ciò che avete sul vostro PC 😀
Nella foto qui di seguito potete vedere che le cartelle del nostro PC sono ben visibili sul nostro smartphone. Possiamo aprire e condividere qualunque file e possiamo anche vedere un film a patto che sul PC ce ne sia uno 🙂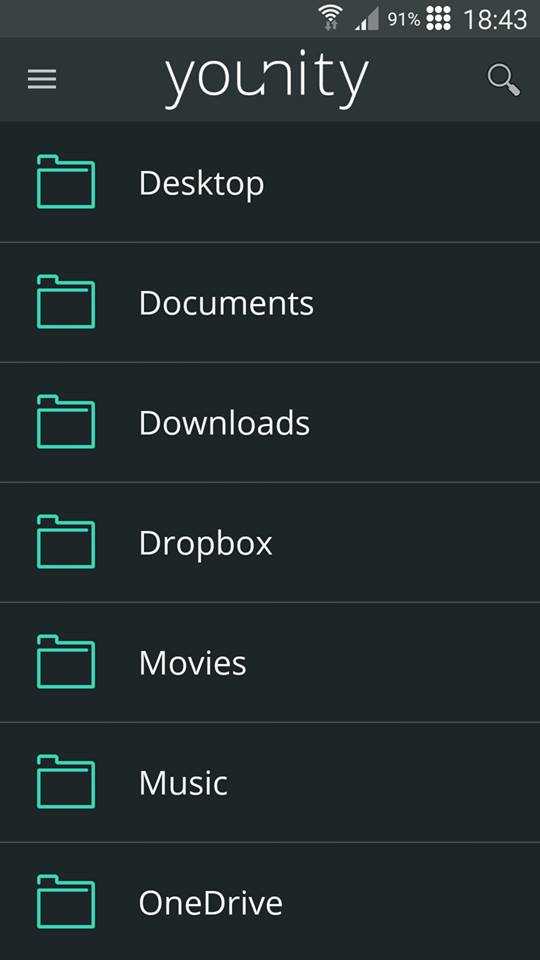 Come detto in precedenza, i file del nostro PC saranno pienamente utilizzabili solo fin quando smartphone/tablet e PC saranno connessi alla stessa rete; nel momento in cui il segnale wifi non raggiungerà più uno dei nostri dispositivi i file saranno automaticamente offline e quindi inutilizzabili.
Per qualsiasi domanda su Younity, non esitate a contattarci nei commenti o nella livechat del sito.
English version:
The younity home media server (available for free at http://getyounity.com/) gives you free and easy access to all the video, music, photos and files stored on your computers from your mobile devices. With the younity home media server you can stream all of your media to your mobile devices.
IMPORTANT: younity must be installed on both your computer(s) and your mobile device(s). Visit http://getyounity.com/ to install younity on your computer for free.
UNIFY MULTIPLE COMPUTERS
– Unify all your content across your computers into one organized menu
– Merge media libraries from all your computers and access all media from one menu
– Search all your content at once, across all your devices
STREAM YOUR VIDEOS & MUSIC
– Stream any movie, video, or GoPro video from your computers to your mobile devices
– Stream your entire music collection and playlists from your computers to your mobile devices
– Stream iTunes music to your Android device
– Download music to your mobile devices for unlimited offline access
– Merge your iTunes libraries across multiple computers
– Stream music to speakers via bluetooth
ACCESS ALL YOUR PHOTOS
– Access all the photos stored on your computers from your mobile devices
– Access your entire Adobe Lightroom catalog, including Folders, Collections, and Sets
– Access your entire Apple Photos library
– Download full-resolution files to edit locally in other apps
POST TO SOCIAL MEDIA:
– Post photos stored on your computer directly to Instagram
– Post photos stored on your computer to Facebook, Twitter, Pinterest, Snapchat, Messenger, and more
ACCESS ALL YOUR FILES:
– Access all your documents across multiple computers on the go
– Keep large files off of your Android, but still have access to them
– Access Dropbox, OneDrive, Box, Google Drive and other online services all in one place
– Email or SMS your documents
SECURE & PRIVATE
– All your files stay secure and private on your own devices.
– younity is a "zero knowledge" personal media server – your files and file metadata are never stored online.
OTHER COOL STUFF:
– Download any of your media to your mobile devices for unlimited offline access
– Print documents or photos to most printers via WiFi
– Younity works cross-platform, so you can connect to both Mac and PC computers
– There's no uploading or syncing necessary to access your media or files
NOTE: THE YOUNITY APP REQUIRES DESKTOP INSTALLATION. INSTALL YOUNITY ON ALL YOUR COMPUTERS FOR FREE AT http://getyounity.com/
Setting up younity is easy! Check our quick guide on how to connect your devices: http://getyounity.com/how-to-set-up-younity.php
Se ti piace il nostro sito e vuoi contribuire a darci una mano, non esitare a offrirci un caffè o almeno visitaci senza Adblock 🙂
[paypal_donation_button]