Aqua Build è una nuova build per Kodi installabile da Aleighty's Wizard; l'installazione passa attraverso l'abilitazione della sorgente di The Community Repo. Una volta installara Aqua Build, l'aspetto di Kodi verrà modificato; è consigliabile pertanto, fare un backup (vedi guida) della versione di Kodi, in modo tale da ripristinarlo qualora questa nuova interfaccia non dovesse piacervi.
ATTENZIONE: Aqua Build non è una creazione del team di Kodi/XBMC ma di sviluppatori di terze parti non autorizzati. Eventuali violazioni di copyright, malfunzionamenti e problemi relativi ad essa, non sono quindi da attribuire a Kodi nè tantomeno a noi di androidaba.net.
Come installare The Community Repo
(se la url inserita non dovesse funzionare, fate riferimento alla guida ufficiale per installare The Community Repo che trovate in questo articolo)
Avviate Kodi, portatevi su SISTEMA e cliccate su Gestione File
Cliccate due volte su Aggiungi Sorgente
Cliccate su Nessuno
Inserite la url http://kodicommunity.com/comrepo/  e cliccate su Fatto
Rinominate la nuova sorgente in the community repo e cliccate su OK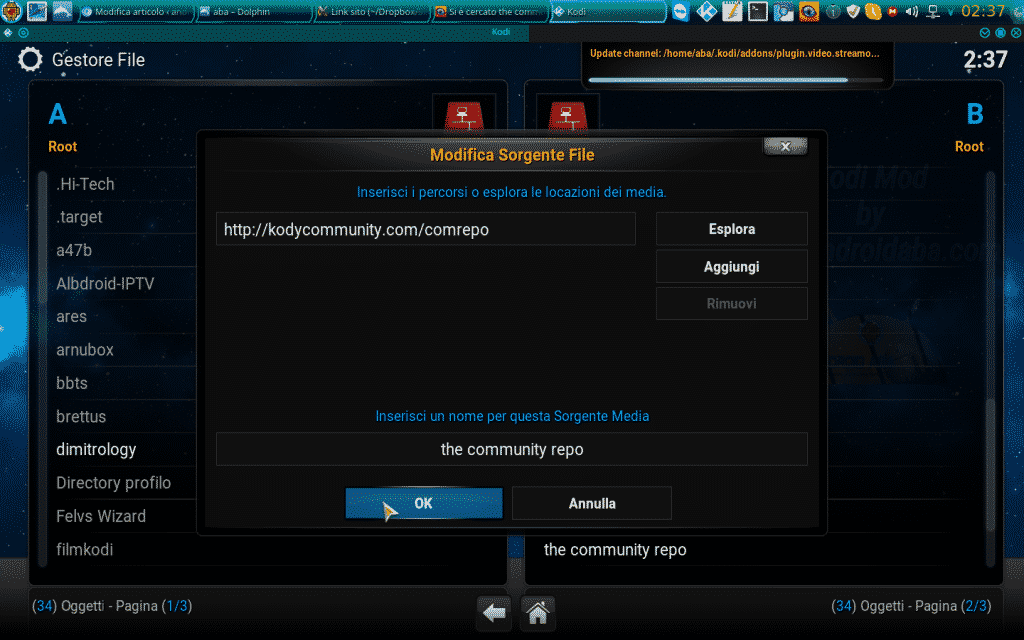 Tornate nella home di Kodi e cliccate su SISTEMA / Add-on / Installa da un file zip
Cliccate su the community repo / repository.communityrepo-3.1.zip
Attendete la notifica di conferma e cliccate su Installa da repository
Cliccate su The Community Repository / Add-on Programmi / Aleighty's Wizard / Installa
Tornate ora nella home e cliccate su PROGRAMMI / Aleighty's Wizard / Aqua Build
Attendete la fine dell'installazione, riavviate Kodi e… buon divertimento 🙂
Non esitate ad esprimere il vostro parere nella sezione commenti qui in basso.
Se ti piace il nostro sito e vuoi contribuire a darci una mano, non esitare a offrirci un caffè o almeno visitaci senza Adblock 🙂