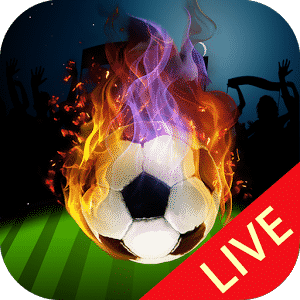 Watch Live – Stream Football (alias LiveSoccer – Football Stream) è un'altra ottima app per Android grazie a cui potrete vedere le più importanti partite di Calcio dei campionati più prestigiosi, comprese Coppe Europee e campionati di squadre nazionali.
L'utilizzo di questa applicazione è molto semplice e intuitivo. La home offre subito l'elenco delle partite giornaliere disposte in ordine cronologico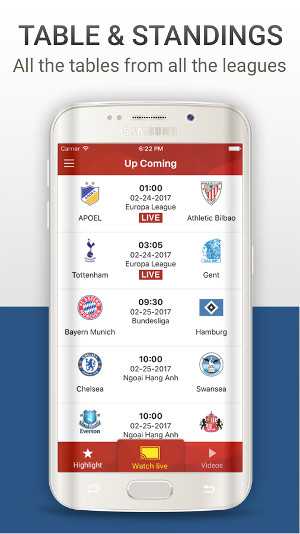 Cliccate sulla partita desiderata per avere accesso ai link dello streaming. Per ogni evento avrete a disposizione 2 o più link spesso molto stabili e di ottima qualità ma con commento in lingua straniera (per lo più tedesco, inglese e spagnolo). Per avviare lo streaming cliccate sul simbolo del Play
Nella parte ineriore dello schermo avrete invece altre due icone riguardanti le azioni salienti delle partite (Highlights) o la sezione Videos con i clip di calcio più interessanti selezionati direttamente da YouTube.
Descrizione originale da Google Play:
Watch Live – Stream Football now available in app store and google play store. Installing LiveSoccer to watch live football without worrying about the hassle of monthly subscriptions and fees. Watch Live – Streaming Football provides you the best user experience, we work hard to ensure our quality of streaming is stable, almost live streaming of football come in HD quality and user be able to chat with others through a chat window.
Currently, Watch Live – Streaming Football supports many league matches:
– Premier League
– La Liga
– Seria
– Bundesliga
– UEFA Champions League
– Others …
In additional, live streaming football comes with many features that keep you up to date in case missing match:
– Match Highlights
– Match schedules
– Match notifications
– …vv
Let install and follow your favorite football teams (Manchester United, Chelsea FC, Arsenal FC, Liverpool FC, Barcelona FC, Real Madrid FC, …vv). We never miss one.
If you find the app useful, kindly leave your review and share it with your friend. The more user, the more motivation and the more we working hard to improve our services.
Pro:
Le più importanti partite (anche di Serie A) stabili e in qualità HD
Ogni partita ha più di una opzione (Link)
Highlights e Video
Contro:
Commento e video non in lingua italiana
Pubblicità nel cambio pagina che deve essere chiusa tornando indietro o cliccando sul simbolo della X posto in alto a sinistra
Watch Live – Stream Football è gratuita ed è disponibile nel Play Store di Google. Per installare l'app su Android cliccate sul link seguente:
Ancora una volta ringraziamo il nostro carissimo amico Sasa per il suggerimento <3
Non esitate ad esprimere il vostro parere nella sezione commenti qui in basso.
Se ti piace il nostro sito e vuoi contribuire a darci una mano, non esitare a offrirci un caffè o almeno visitaci senza Adblock 🙂